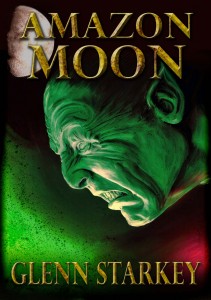 There's no greater surprise than checking bookseller websites and seeing that your latest novel has been released two weeks ahead of schedule without your knowledge!
Amazon Moon is my fourth published work and my first journey into a bit of sci-fi. Each of my novels is different in setting and characterizations. I haven't yet settled upon the making of a series. First, I want to get all of the stories out of my head I've wanted to write for years—then I'll decide which characters are calling me to return to them. At the moment, John Alvarez from Amazon Moon is summoning the loudest…
John Alvarez was a bad boy—so bad that a judge finally gave him a choice between prison and the Marines, yet in the Corps he discovered a home. Shipped off to Vietnam, he leads his own band of bad boys—Iron Raven, the terror of their enemies and always the first choice for a dangerous mission. On one such mission, the brain child of a couple of CIA ops, Alvarez and his squad are cut off from escape by their CIA handlers and are left to fight their own way out or die.  Only Alvarez survives, and his revenge on the men who abandoned him and his friends, lands him in prison for life.
 After twenty years he's offered freedom, but only if he agrees to undertake another suicide mission:  to act as bodyguard for a Mr. Standish on a journey into a mysterious Amazon kingdom ruled by the devil himself.  It is only in the heart of the jungle that Alvarez discovers he is on a mission that can only have two endings—redemption or death.
As I previously wrote in my blog My Journey with Amazon Moon, this novel led me down many paths and I encourage you to read the blog before reading the novel.
"Amazon Moon is the sort of novel that grabs you by the throat on the first page and doesn't let go until the last.  It is an exciting story and, at the same time, something more.  It is a fable about one man's redemption, his rediscovery of innocence."
          Nicholas Guild – New York Times Best Selling Author –  The Assyrian, Blood Star, The Berlin Warning, The President's Man …
 "With Amazon Moon, Starkey has done it again– lured me in, set me up and wrung me out! Splendid."
           Jeff Mudgett – Author of Bloodstains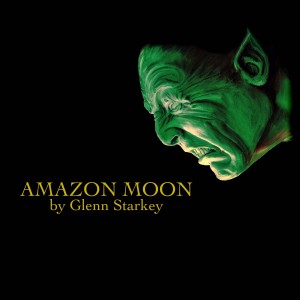 I am proud to have the endorsements of Amazon Moon by two fine authors: Nicholas Guild and Jeff Mudgett.  Guild has a long list of literary accomplishments and equally long list of prominent literary reviews and is what I consider to be, my mentor. To have the honor of him reading my work is quite a feat, but for him to write an endorsement and give approval of my novel is beyond words to me.  Mudgett is a fine author whose novel Bloodstains (about his serial-killer relative H. H. Holmes aka Jack-the-Ripper) is in the works to become a movie. I consider myself quite fortunate to have their endorsements.
In the next few days I will place samples of Amazon Moon on my website for all to read. I hope you will enjoy the novel, provide a review on it if you like it – and feel free to write me with any discussions you may have about the work.
Regards,
Glenn