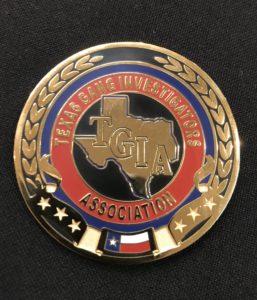 By invitation I recently spent three days at the 2019 Texas Gang Investigators Association (TGIA) Training Conference in Corpus Christi. Looking back to 2012 when I first attended their conference, TGIA has continually produced one of the premiere specialized law enforcement training conferences in our nation—and the number of attendees keeps growing! Each year the association's dedicated board members find the best speakers and pertinent subject matter for every new and experienced person working in the trenches of gangland organized crime.
The TGIA is a non-profit organization, founded in 1991 by a small group of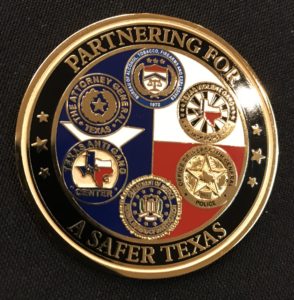 officers charged with the investigation of street gangs, prison gangs, organized crime and their related criminal activities. They saw the dire need for promoting better working relationships and the rapid dissemination of intelligence among everyone investigating gangs whether it be statewide, nationally, or internationally. And they moved mountains to bring TGIA to its high level of professionalism and expertise that it is today.
To the majority of the public, the word 'gang' evokes images of small-town punks running in groups to paint graffiti on fences and the sides of buildings. That's the kindergarten level compared to what the members of TGIA have to work with every day. I'm talking organized crime that has nationwide and international roots; is highly orchestrated from prisons; yearly moves billions of dollars; feeds corrupt officials and has ties to just about every crime you can imagine—drugs, human trafficking and prostitution, protection rackets, murders, thefts, and the list keeps going. Organized gangs are integrated into every segment of the public's life, and unfortunately, too many citizens turn a blind eye to gang problems because they don't believe they are affected by it. Dealing with gangs is the dark, sewer side of life, one that is dangerous to our men and women embroiled in the fight. It's butcherous too. Gangs don't mind cutting heads off or murdering whole families to make a point.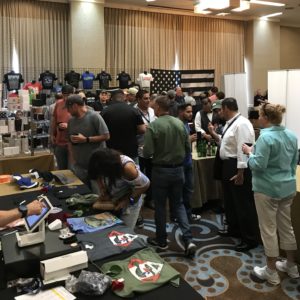 As a former law enforcement officer and retired security manager of a global oil corporation, I was impressed with the security of the recent conference. To ensure no media or unauthorized personnel try to slide into the training sessions, conference credentials are checked at each door and no recordings are permitted unless advance authorization is obtained. Keeping the wrong persons out allows for straight talk to the attendees; the kind of talk that is needed.
Our country, its laws, and the very core of families and society are under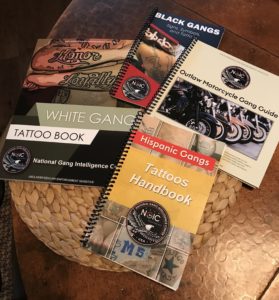 attack. Murder and violence against our law enforcement personnel has been advocated as if it were some play game. But of course, those politicians promoting civil unrest are safely hidden behind their mansions' high walls and armed guards. It's the patrol and gang officers that have to deal with the real world every day. This is why I'm so glad to see TGIA bringing officers and judicial officials together, to work with one another and become closer. The 'Blue Brotherhood' is a family.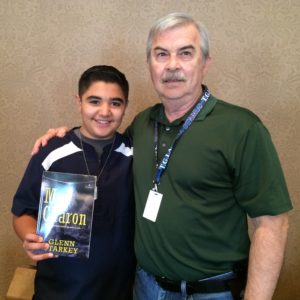 Through the years, even when I missed a conference, I have always returned to warm greetings and the long-term friendships of so many people. One case in point is 'Joey', a young man I've had the pleasure of watching grow into a remarkable teenager. He's the son of an outstanding officer and TGIA board member and has worked alongside his father every year at the conferences. I know Joey's parents are proud of him.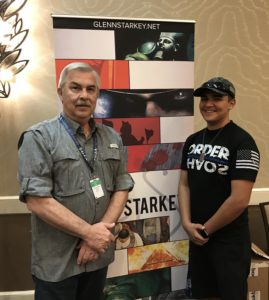 There's always a wide selection of vendors at the conferences. This year's training session was sponsored by Sun Coast Resources, Inc. There are government agencies (El Paso Intelligence Center and National Gang Intelligence Center) in attendance that provide 24/7 intelligence services and training materials.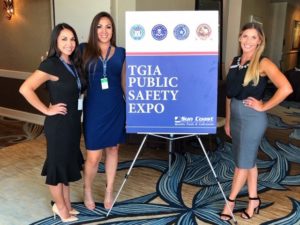 One interesting agency was the Texas Correctional Industries (TCI). Christy Putnam of TCI (a department within TDCJ) showed me a full booklet of products made by the prisoners that are for sale. They make everything from furniture to clothing, and if your department needs something, it might be worth making contact with her. And there were many other vendors present too!
Of course, 10 of my 11 books were displayed and sold there (and THANK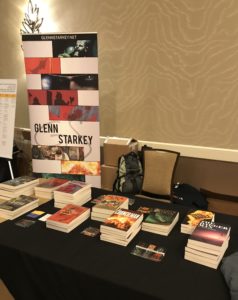 YOU to all that bought them or stopped by to talk.) New friendships were made, and I look forward to seeing everyone again in the future.
But I have to give a shout out to my long-time friend "Rocky" Dyer, retired from SAPD and now with Breaching Technologies Inc. Rocky and Bart Mora (retired ATF) were setup with an adjacent room for all energetic souls to attempt breeching a monster steel door with some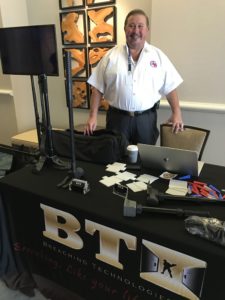 of BTI's rams and tactical tools. You have to love it when the rams have names like 'Warhead,' 'Mity Mouse' and the 'Wasp.' I enjoyed hearing how my Corps' MARSOC operators always prefers to use a bit more explosives than needed to blow a door. "Semper Fi."
My thanks to the Board of TGIA for putting on such a great training conference and all the hard work they do to make it so. It's no easy feat to have a conference flow as smoothly as TGIA always has them perform. And special thanks to 'the Zam' man for allowing this old warrior to be a part of it all.