Through hostile tribes and barren wilderness parched by the sun, a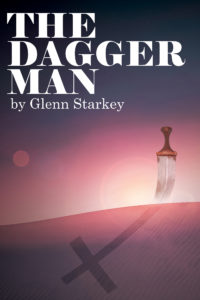 downtrodden race of people obeyed their God and journeyed to the Promised Land, a land flowing with milk and honey. But settlement never came easy, and only blood flowed. Wars, strife, and merciless kings ruled them, then came the tyrannical Roman domination.
Two men born under the same star on the same night are destined to lead intertwined, yet separate paths – one to save people, the other to become an assassin. Yeshua's life is to fulfill the prophecies of the Messiah to come while Hanan fights his country's Roman oppressors and a corrupt, ruling priesthood. Hanan was raised to become the leader of the Sicarii, a group of assassins far crueler and more fanatical than the Zealots. The era is heavily political, treacherous, and steeped in the subjugation of a people that have fought for their freedom since ancient times.
The Daggerman is now available for pre-order of print copies on Amazon.  The Daggerman is available for purchase in eBook formats.
Book Cover Design by Battle Cry Revival Marketing.