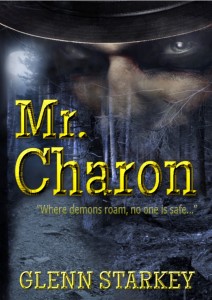 "Mr. Charon" is a Young Adult, paranormal thriller that all ages will enjoy…
In the dying town of Thornton, Texas, in the summer of 1962, five teenage boys have their fates forever entwined. Though all friends, their home lives are disturbingly different. Eddie has an abusive father, while Andy is the child of a single mother with debts too high for money alone to pay. They decide to right what they consider wrong in their lives.
A long forgotten Ouija board in a deserted barn becomes their answer. Together, they call upon a spirit but could never have expected the appearance of Mr. Charon, a demon who comes to haunt their small town with the help of his evil pets. Terror is unleashed upon Thornton, and although Eddie and Andy are to blame, their friends agree to help.
Mr. Charon has been released, and somehow, the boys must find a way to send him back to Hell and end the horror that has overtaken their fellow townsfolk. Good and evil collide as they fight not only for their own lives, but also for the souls of the entire community. Too late, the five boys have learned that where demons roam, no one is safe.
"Mr. Charon" will be available in eBook, softcover and hardcover formats. As of today, it's released as an eBook on KOBO and Apple iBooks, and on Amazon and Barnes & Noble in softcover and hardcover formats. The eBook format will be coming as well. In the immediate future, all three formats will be available for order at every major online book seller and bookstore.
Check out the "Mr. Charon" page on this site for excerpts of the novel. And stop by to click the "Like" button on my
FB Author Page. I appreciate you visiting and checking out my books. Feel free to write to me through my Contact page on this site.
Thank you,
Glenn