Here are some reviews of my books.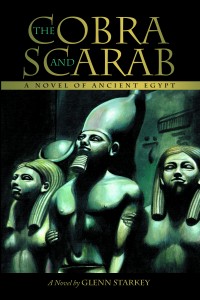 Review of "The Cobra and Scarab: A Novel of Ancient Egypt"
http://ssbookfanatics.blogspot.com/2011/12/author-glenn-starkey.html?spref=tw
REVIEW by Sandra Valente, SSBookFanatics.com
Copy received from the author
When Glenn Starkey asked me if I would like to review his novel, part of my answer was, "To be honest, I am not one for historical fiction BUT, the fact that it's set in Ancient Egypt already interests me. I am by no means a 'fundi' on Egyptian history, however your excerpt has intrigued me – so much so, that I will certainly make the time to read it." I received this book last night and all I did today besides eat at the appropriate times and only when the grumbling got too loud, was read this wonderful story. I finished it today.
It begins with an archaeologist finding scrolls in the Valley of Kings. The Englishman sits in hope that the Bedouin (the village elder) has good news for him. This could be his chance at fame. After being reprimanded for only wanting the glitz, the village elder explains that the archaeologist has indeed found a treasure, but not one of gold as he had hoped – one worth so much more than that. He begins translating the scrolls and not only is the Englishman sent on a journey of Egypt and it's rulers, but so was I.
Set in Ancient Egypt, this book takes you through political and religious power struggles which is pretty much still evident today and from one Pharaoh to another. A woman, his wife no less, Hatshepsut, who refused to be the Queen of Egypt and swore with vehemence that she would rule both worlds of Egypt, the Upper and Lower as their Pharaoh, their King. Unheard of. The birth of Tehutmus' two sons, one who shall succeed him and born to bloodline, Tetimas and his brother Sakkara. The death of Tehutmus II through Hatshepsut's plotting and conspiracies with the mad, evil and malicious priest, Ashwan, who in turn desperately and ruthlessly covets the title of Supreme Magus, ruler of all priests. Hatshepsut's hatred for Tetimas who could very well take what she wants most, coupled with anger born from only bearing females.
You will follow these two young men from their birth to adulthood, through struggles, loss and sadness but also through their courageous efforts to make their father proud, not excluding the fact that a strong bond of love is forged between them although born of different mothers. Each wears a ring given to them by their father. Tetimas' bore a Cobra and Sakkara's bore a Scarab. This quote says it all: "…and the scarab will always protect the cobra and the cobra will always protect the scarab."
Glenn Starkey has woven the most glorious story full of amazing descriptions be they from the clothes worn to the battles of war, from the luxurious palace to the humble markets. The gloriousness of The Nile but also the fears that lurk within. You are never once left without a vivid picture of some sort in your head. The friendships and trust between the true Pharaoh's and those closest to them is inspiring and forged to the death. Humour and crassness is brought forth in the dialogue, but however dark some parts may be due to the horrors carried out by Ashwan, they have a rightful place in this novel. I can very well believe that the depiction of savageness, evil and madness took place. Every single character is extremely well written. The true Pharaoh shall lead his people and rule over Egypt but the journey to this end is marred by atrocities…..
This novel really touched me and I will freely admit that I was left teary eyed quite a few times throughout. I loved everything about this book. It's written beautifully and depicted magnificently. One can see that it was thoroughly researched by the author. Mr. Starkey wrote on his website and I quote: "I thoroughly enjoyed writing this novel. It allowed me to combine my love for history with action, adventure and intrigue, plus a tale of the bond between two brothers from their births to adulthood." I know that this is true because this is exactly what I got.
Three quotes I liked and there are so many
"I have no idea. My physicians make it especially for me to prevent what you now feel. Drink it down. And by Seth's stinking buttocks, do not smell it!"  
"By Osiris' erect scepter, cover yourself, man! Remember, you are a prince, not a commoner or slave."
"Who fully knows how a woman thinks? Like a sandstorm rolling across the desert, shifting the dunes at whim, then leaving until another day to return and shift them again, who can explain such reason as to why one grows tall and one is leveled. But always they change and such is the thinking of a woman. I would never profess to understand a woman's logic, and only Allah, the merciful and benevolent, can do so."
Favourite character?
One of my favourite characters is Muehe (the Queen's slave). He is hilarious and the vision left in my head makes me laugh constantly.
I have read many a book this year and a whole lot of them I loved. Two of those will stay with me for a very, very long time. The Cobra and Scarab: A Novel of Ancient Egypt, is one of them. Mr. Starkey, you truly have a way with words and you Sir, are a master at story telling. This would make for a glorious movie.
A must read and I highly recommend it. It rightfully deserves a 5 star rating and is a definite keeper!
You can connect with the author on Twitter @GStarkeyBooks
Again, thank you so, so much for allowing me to go on this journey.
Warmest Regards,
Sandra
From Micheal Rivers, From the sands of ancient Egypt comes a tale of historical fiction to delight. Author Glenn Starkey takes us on a journey of political intrigue straight from the royal palace of the Pharaoh and into the battle fields of the world. You will walk with the Pharaoh and his children as life takes them through the annals of a lifetime. It is a tight story; well written, and guaranteed to please the historical reader. A must read! It will leave you wanting more. "Yes, but that is a scroll for another day."
From James Bryce – "The Cobra and Scarab has at its heart a dynastic, power struggle in ancient Egypt.  Glenn Starkey clearly loves the ancient world, and has researched it with care.  He roots a fictional story well, in that real, known history.  Ultimately the book is about the story of three pharaohs, one of them Hatshepsut, the main (only?) woman pharaoh of ancientEgypt.
This is a substantial book.  The plot is like a tapestry, the different threads woven together with great skill. There are three main sections, to give three episodes in the main characters' lives. The book tracks them through, from childhood to adulthood, then to the assumption of responsibility.
Glenn Starkey makes the detail come alive – power politics, loves, hatreds and rivalries; everyday life, from soldiery through priests to medicine and business people; and the context which makes things graphic, from plague rats to crocodiles in the Nile.  It's pungent stuff, regardless of differences of time and culture.  The characters come across clearly, their human priorities and frailties clear, just as if they were modern and live.
So there's a lot here: a political thriller; an action plot, with lovers, fighters, danger and risk; and a very good slug of carefully sketched history.  I read it in one afternoon.  It's entertaining, substantial, and a fast-paced good read!"
_________________________________________________________________________________________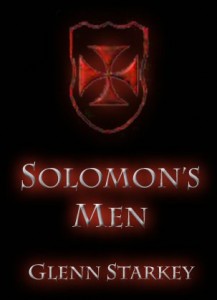 Reviews of "Solomon's Men
From The Midwest Book Review – "Solomon's Men by Glenn Starkey is a genuinely suspenseful novel about an expert thief drawn into an extraordinary tangle. Greg Valdez's heist of a modern day Templer's pouch (which contains the true burial Shroud of Jesus), initiates a cascade of power struggles with the life of Greg's closest loved ones in the balance. Exciting and unpredictable, Solomon's Men is highly recommended as an original action/adventure thriller."
FIVE STARS from Author Micheal Rivers, "Moonlight on the Nantahala" – Review of "Solomon's Men"
Grabs you straight out of the gate and takes you into a world of intrigue, mystery, romance, and the adventure of a lifetime! Valdez is a character straight from the heart with the values that set him apart from the ordinary man. Mr. Starkey has put you in the story from start to finish with every step Valdez takes.
Move to the edge of your seat because this is where you'll stay until the end of the story. This book is extremely well written with characters that will be remembered in years to come. Well researched, this is a book filled with historical content combined to keep you hanging onto every word as the characters move through a modern world. Solomon's Men is a whole new prospective on the Knights Templar.
Five stars is a starter kit for this book. Mr. Starkey, I thank you for the opportunity to read this, and for those who have not had the pleasure, I highly recommend it.
MWSA (Military Writers Society of America) Review of "Solomon's Men"
Reviewed by: Edward Cox
Solomon's Men is a fast-paced and enjoyable read. Glenn Starkey's protagonist, Greg Valdez is an art thief with a shadowy past. Commissioned to steal a priceless artifact from an ancient Portuguese monastery, Valdez soon discovers that possessing the artifact puts him and his family in danger. Hunted by a secret sect of Templar Knights and the secretive millionaire who hired him, Valdez has to use all of the skills from his past to save his son, himself, and the woman he loves.
Glenn Starkey's writing reminds me of other great authors in the genre. I couldn't put this book down and wanted to keep reading it. If you liked The Saint series or Tom Clancy, you'll love this book. The ending will surprise you.
SSBookFanatics REVIEW of "Solomon's Men"
by Sandra Valente
http://ssbookfanatics.blogspot.com/
I'll start by saying that after reading The Cobra and Scarab: A Novel of Ancient Egypt which I received from this author, I was more than interested to find out IF I would enjoy this book as much as I loved the above mentioned title.  Well, as I never mentioned to the author that I had bought this one, I can now categorically state that it was brilliant.  I don't know what it is about Glenn Starkey, but again, the story telling, the vivid descriptions of everything and anything are just amazing including the
extraordinary ride you are taken on.  Suspense? Plenty. Intrigue? Bucket loads.  Thrilling? For sure! Does the story touch you, do the characters grab you? You bet your sweet patootie!  This author has fast become one of my favourites – no doubt about it.
The story begins in the year 1306, France, where on the steps of the Templar Cathedral, Knights of the Order stand silent keeping vigil.  A huge burden lays upon the shoulders of the Knights of the Temple of Solomon.  King Phillip the Fair seeks to eradicate them.  The Grand Master DeMolay announces that they will be victorious and proven innocent of all charges and vows that the King of France will never touch their true treasure.  The true burial Shroud of Jesus must be protected at all costs.  He forges a plan and produces a replica.  Solomon of Avorone's courage and wisdom has been worthy and for the sake of the Order, he is asked if he will accept his highest responsibility.  He's asked by DeMolay to select twenty Knights, including himself. DeMolay further reveals that on this very night, they will form a new Order, secret and separate from theirs, to serve only God and also to protect the Burial Shroud.  Nobody besides them is to ever know where they will be. Upon the slicing of a cross patee upon their chests they are sworn to serve Him and forever protect the Holy Shroud that they hold.
Greg Valdez, an arts thief is commissioned to steal an artifact from a Portuguese Monastery.  The pay is good and Greg is very good at what he does.  He's had a somewhat shady past but also quite a bit of training.  He doesn't steal for the simple fact of stealing and making money, in some cases lots of money, he primarily works for some major insurance companies and 'steals' or acquires previously stolen art which is returned to their rightful owner.  Except in this case of course.   As soon as Greg 'acquires' the artifact, he starts to realise that something is not quite right and more is at play here. He has his son Daniel to think about who unfortunately suffers from Autism and presently resides in an institution; and so with the pouch in his possession Greg makes his escape.
Now we are in Tomar, Portugal 1997 and the story picks up it's pace even more when it comes to the Monastery's alert that the Burial Shroud has been stolen.  The Order's team is sent after the culprit and we come to know them as the Hunters.  We are now positioned between Greg with the artifact in his possession, the Hunters hunting for the culprit, Daniel sitting at Lakeland Estate in Dallas, Texas whom Greg is anxious to take away so that they can start a new life and of course a man by the name of Cain who only sees money as power and was the one to commission the artifact. I really don't want to say anymore regarding the story – too much will be a spoiler.  I will tell you though that I felt as if I was right there wanting to help in what needed to be done.
Mr. Starkey has used his knowledge of Vietnam (being a Vietnam Veteran), former Marine Corps Sergeant and Texas law enforcement officer in relation to weapons and descriptions to tactical and recon strategies including the training that all these men have had.  The author also manages to mold his characters into people I would love to meet in person like Tobias Whitworth (a true friend), Ben Blackhorse and Fred Blackhorse.  I love the Indian culture, beliefs and mysticism that encompass who Ben and Fred are including their humour.  Simply loved them – they seem so wise.  So much is woven into this story without one thinking, okay, I've read that before.  Well, I certainly haven't.  It's all perfectly correlated, it's fabulous and it makes you think about a lot of things.  Don't you just love a story that has everything in it except the kitchen sink, yet it's not the least bit cluttered, but wonderfully enlightening and clear?  Well, here's another one for you.  I tip my hat off to you once again Mr. Starkey, you catapulted me in a completely different direction, yet one that still sent me on a chilling, suspenseful and heart warming journey full of twists and turns and I may I add, a miracle or two. Add the fact that I learnt a few more things regarding history I can only
but highly recommend this book.  It deserves a 5 star rating.
One of my favourite quotes
"Dying is easy, Joseph.  Living, especially living with our past, is the true challenge."
_________________________________________________________________________________________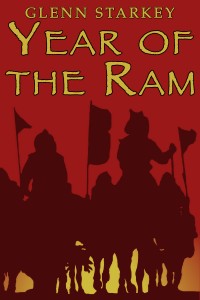 YEAR OF THE RAM by Glenn Starkey
REVIEW by Sandra Valente
  http://ssbookfanatics.blogspot.com/
This is the third book I have read by this author and I truly hope it won't be the last.  I was reluctant to read it, but not for reasons you may think!  You see, Glenn Starkey has published three novels.  One I was asked to review (will always be thankful for that), one I bought and Year of the Ram was a gift that came all the way from Texas to South Africa!  It's autographed to me (big proud smile) and includes an inscription of how this novel came about.  My reluctance to read it was for fear of damaging the book although I am so careful it's almost clinical. Much as some people treasure certain things, I treasure books and when one has been autographed by the author, it's a whole different reality. If I had to tell you how many times I have lovingly run my hands over the cover, read the inscription and put it back in it's packaging, you would think me mad.  Unfortunately it's true. My gratitude to the author for his gesture is beyond words.  For more on Year of the Ram and how it all started including an excerpt, please visit: http://glennstarkey.net/books/year-of-the-ram/
I started this novel on 26 January and finished it yesterday, 27January. What I have come to realise with all three of Glenn's novels is the fact that once I started each one, it felt as if a hand had made its way out of the novel, gently grabbed me around the neck and pulled me into its story until such time as what was being told had come to an end.  After accomplishing what it set out to do, the hand would then draw me out of the world I was in, pat my cheek, and disappear leaving me sitting there in wonder.  Any clue as to how I felt about this story?  Loved it.
Instead of elaborating too much on how the story follows and it's quite an intricate and a fairly lengthy one, I will touch on certain characters and describe as best I can what I think I should share. Year of the Ram is set in war torn battlefields, extraordinary mountains and glorious palaces.  It's the story of many but primarily one of a nation, the Mongols, conquering other nations, the Emperor of Emperors, Chingis-Khan and his son Etar, the army's Sovereign General and heir to the throne.  Etar is one whose heart and soul are tightly welded together making him the leader and warrior that he is. He's known to all across the lands as the Death Stalker and is highly feared.  He is a ferocious leader who is meticulous, cunning and plans attacks to the last detail but one that shows he can be soft of heart despite his rank and position.  Etar feels pain over a love he lost when she was killed by those from his nation.  He places the blame upon his father for his loss. A father who ordered the deaths of those he believed were holding Etar captive, and a son Etar never knew he had.  Koran.  You meet the man, Subati, who took a boy in and raised him as his own son from the day he was born.  One who also kept the truth from both Etar and Koran for 24 years.
Emotions are felt by allegiances pledged of those that serve the Khan and Etar which are not only based upon penalty of death should they ever deceive, but also based on respect, a deep fondness and I believe friendship.  Lady Elena, Etar's mother who I personally forged a deep respect for including Subati, the Grand Master, alchemist and very wise man indeed, the only father Koran had known.  Etar's head servant Mai Ling, chosen especially for him by his mother, who made me laugh at any given moment during the novel and proved to be a strong character.  The hatred Koran feels against the Mongol's for taking his mother's life – an artisan.  A mother he never met and all that remained of her memory was a pendant he forever wore around his neck.  Koran, Etar's fearless son (a chip off the old block) who displayed honour, duty and eventual trust after learning who is father was.  A son to be proud of.  Koran's self appointed 'bodyguard' Yutaka, a highly skilled warrior, whom one cannot but hold in high esteem. I must not fail to mention, Captain Temur, Etar's personal bodyguard who is a man worthy of his rank and true to his master, always, and lastly Jamal al-Din, Master of the Blade who not only taught Koran the art of blade making but was there for him until the end when he was needed the most.  These are only some people I could not help but admire.
Collaboration and hopeful deception by a council of Kings who want to eradicate the strongest nation and a jealous half-brother who believed it was his right to be the next heir.  The intricate planning of battles and how weapons we have heard of in our day and age were put together by alchemists or the Ministers of Festivals as we come to know them.  Names like Cha (tea; and in Portuguese we write it as Chà – interesting), Kafei (coffee) and Minister of Quills who records official documents.  I could go on.  It's like a treasure hunt and you are always discovering or learning something new.  It all comes to life, makes you laugh at certain situations or phrases and without fail, always touches me emotionally to the point it makes me teary eyed.  Yet again, this is a novel filled to the brim with vivid images and descriptions. Nothing less is to be expected from this author who has an amazing ability to portray each character perfectly be they male or female.
Year of the Ram is a novel born of a dream.  A dream that eventually became a reality.  A reality that I have had the good fortune to lose myself in.  It was meant to be written.
Quotes:
"If you follow in your father's footsteps, I am sure you will one day be as great as he is." –The Master of the Blade, to which Koran replied, "To be worthy enough to follow in but one of his footsteps is accomplishment enough" –in this instance Koran is referring to Subati.
"For the right amount of gold, the Minister of the Quills would sell his mother".  –Mai Ling when asked by Etar which palace official may be the easiest to bribe.
"I am a ronin, a masterless warrior, a samurai, and serve no one except whom I want to.  One day you will need a skilled warrior by your side and I shall be that man.  I have chosen to follow you" –Yutaka to Koran
I fear repeating myself but it was magnificent.
Sandra
South Africa
*******************************************************************************************************
12/12/2011
Reviewer: Bob Davis, San Antonio, TX
Review of Year of the Ram by Glenn Starkey
If you like a good adventure story filled with action, intrigue and excitement, then Glenn Starkey's Year of the Ram is just what you want. This new offering takes the reader back to the days of the Mongolian Empire and the Great Khan. There, we follow the lives of two very different, yet very similar men during the early days of the Mongol expansion into one of the most powerful empires in the known world.
First, we meet Etar, known throughout the Empire as the Death Stalker, as he and his personal band of warriors take the capital of yet another small kingdom. Etar is the Mongol General of Generals, leader of the entire Mongol Army and the son of the Emperor of Emperors, Chingis-Khan. Yet, as we watch the battle against the capital unfold, we learn that Etar didn't get his position by virtue of birthright, but by being one of the mightiest and most skilled warriors in the Empire. His actions show him to be the epitome of the Mongol warrior, brutal and heartless as he crushes the city and orders the death of its citizens. Yet, Etar respects bravery and he orders a swift death to the few soldiers who fought against him with honor and bravery. Clearly, Etar enjoys to life in the field, despite the fact that he could chose a life of relative luxury in the Forbidden City with his father as one of the potential heirs to the throne.
Next we meet Koran, adopted son of the Grand Master Sabutai. We learn that Koran, named after the book, came to be Sabutai's adopted son after his mother arrived at the isolated town of Tensho on the Plateau of Tibet following a Mongol attack on her home of Kashgar. The beautiful Laleen knew Sabutai and had come to him pregnant and injured. She died of her injuries shortly after giving birth and Sabutai takes her son as his own. He raises the boy, ensuring his education not only by teaching him himself, but by sending him to other great masters of the various skills, both academic and physical. And although Tensho is part of the Mongol Empire, Koran grows to manhood hating the Mongols, blaming them for his mother's death, while learning the tactics and abilities of warriors at the hands of the masters.
Suffice it to say there's a family connection between Etar and Koran. Etar is Koran's father, but is unaware he has a son. Laleen, the only woman he ever loved, he believe killed years ago in Kashgar. He wears the amulet she made him after nursing him back to health with the help of the old Grand Master from the Plateau, Sabutai. Koran, on the other hand, doesn't know his father's name. In fact, not until the Council of Kings summon Sabutai to help plan an attack on the Mongols does Koran learn he is, by birth, a Mongol, the very people he's grown up hating for causing his mother's death. Sabutai sends Koran in his place, telling the young man only enough of his true background to make him realize he too is a Mongol. Will Etar and Koran learn of each other and get together, or will it become a battle of father versus son? To find out you need to read Year of the Ram. Just be aware that as you do you'll travel on one heck of a thrill ride with epic battles, palace intrigue and exciting action that'll keep you turning the pages to see what happens next.